Conveyor belt accessories
Starclean belt scrapers
Starclean Belt Scrapers
Series 830-E With Automatic Tensioning
Suitable for reversible operation
Interval-based or load-based cleaning possible electric linear drive unit (retrofitting possible)
Can be fitted with polyurethane and tungsten carbide blades.
Series 860-Rs With Raster-Tensioning Device
Easy and quick maintenance outside of the transfer chute
Convenient removal of each scraper blade from the side
Reliable and safe scraper blade replacement without reaching into the system
Can be fittet with Polyurethane and Tungsten Carbide blades for both primary and secondary scrapers.

Next-Generation Scrapers
Suitable for reversible operation
Interval-based or load-based cleaning possible
Linear drive unit (retrofitting possible)
The New Digital Starclean S3
Together with our Cloud Dashboard, the intelligent scraper Starclean S3 enables you to predict scraper maintenance. The scraper itself regulates the wear and automatically maintains a constant pretensioning force. You can now keep an eye on your conveyor belt at all times – this saves you lots of money in optimized uptime and prevents unnecessary production stops.
Advantages
Continuous inspection Damage limitation
Efficient use of resources Improved operating reliability
Prevention of costly, unscheduled conveyor belt downtimes
Transparency
Modules
Scraper
Motorization set
Scraper Intelligence Module (SIM)
Measuring roller with sensor system
Belt damage detection
LTE Edge Controller/Cloud
Applications
Automatic or manual engagement and disengagement of conveyor belt cleaner
Automatic readjustment of the pretension
Wear indicator and warning for polyurethane scrapers
Constant belt damage detection by the secondary scraper
Operating hours display for belt conveyor, scraper, and wear parts
Switch-on, engagement and disengagement counter
Indicator of conveying speed and running direction
Control for up to four scrapers
RFID access with rights allocation to protect against unauthorized access
Information about the belt conveyor, the scrapers, and the control system
Error messages and faults
Scraper Intelligence Module (SIM)
Motorization set with S3 sensor system
Drive Scraper – Primary or Secondary
Measuring roller with sensor system
Contact us for more information +45 8020 8020
Undine high pressure belt cleaning
Undine is an innovative way of using high pressure water, whether in connection with production or cleaning.
Future requirements for the production of e.g. food, beverages and other products will include increased requirements for hygiene and cleanliness, but also for reducing water and energy consumption.
The key to success is the incredible speed with which the tiny droplets are ejected: 900 kilometers per hour, 6 times faster than traditional high-pressure cleaning. Each drop hammers the dirt away. Each spot on the surface is hit many times, removing bacteria and dirt. But each drop has too little force to damage the surface. Products and machinery remain intact, even soft vegetables survive undamaged.
The result is much more hygienic cleaning with a huge water saving – regardless of whether hot or cold water is used. In addition, labor costs are significantly reduced by automation with Undine®. The system can be adapted to existing installations or built in from the start.
Undine can be advantageously used in connection with various production processes: cleaning food, cleaning conveyor belts, or in connection with reducing losses during drying
This is how Undine works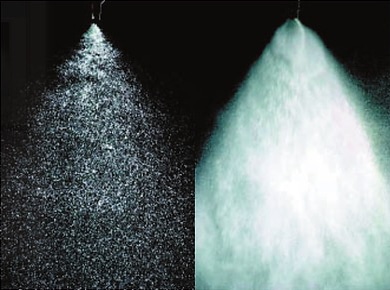 The unique Undine nozzle comprises of two chambers. In the first chamber, which is conical, water is mixed with compressed air, whereby very small water droplets are formed. Due to the pressure difference between the two chambers, the water mist is shot out through the nozzle at a very high speed. The combination of the tiny droplets, which attack dirt and bacteria like tiny 'needles' and the high speed of the water mist, gives an unrivaled cleaning effect without a hint of damage to machines and belts. In fact, the water mist is so soft that you can hold your hand in front of the nozzle.
This is how much you can save!
Studies from a poultry and a sow slaughterhouse in the Netherlands has demonstrated that the installation of Undine® resulted in the following savings and improvements:
Up to 60% savings on salary expenses with regards to cleaning

25% savings on water*

Weight loss i.f.m. drying/cooling of meat reduced from 1.7% to 0.3%

Carcass cooling time reduced by 2 hours.

Reduction of discoloration of meat and bones.

Visible and measurable improvements to hygiene (machines and products)

No contamination of the transporter's surroundings (does not spray)
Return of Investment = 6 months
The slaughterhouses saw that the investment paid for itself in less than 6 months.
Read all about the studies at www.iwc-international.com
*depending on the application, up to 70% can be saved on water and energy.
Undine® belt cleaning is used in Hyecon transport solutions, where strict requirements are placed on the product's properties.
Hyecon is a term for the highly efficient Ellegaard component developed for the Food Industry, focusing on hygiene and economy. The product portfolio consists of the following components:
ScanDrive Drum Motor IP 69K certified
Scandrive Rollers
Undine Belt cleaning technology
Quick-Release Belt Cleaner
Dropbelt
PUR brush scrapers
We offer PUR Brush Scrapers consisting of a ScanDrive® drum motor in Ø135 mm with attached PUR brush components. The scraper is robust and highly efficient and can be manufactured for all conveyor belt widths.
An affordable concept with fast delivery.
Heko chains and gears
Bushed chains, chain wheels, rollers, apron segments and deep buckets
HEKO furnish bushed chains to DIN 8165 and DIN 8175 as well as bespoke bushed chains. Mainly twin strand chains are employed for these applications. HEKO offers their full technical support including site visit to find and implement solutions to customer's conveying problems.
HEKO's large range of components enables them to offer solutions specific to customer's application. Chains generally have 160, 200, 250 and 315 mm pitch with bush and bolt sizes either to DIN or to suit customer's requirements.
Chains can be supplied with or without stiffening. A variety of roller types are available, with lubrication, sealed for life, etc.. Compatible chain wheel, with or without replaceable toothed rims or with wear reducing pitch, are part of HEKO's manufacturing pallet, as are rollers, attachment flats, apron segments and deep buckets.
Forged link chains, scrapers and chain wheels for single strand and twin stranded conveyors

Forged link chains are subjected to tough operating conditions. As they are in direct contact with the product to be transported thet must be able to withstand the abrasive and corrosive nature of the product. Heat treatable steel or case hardened steel are therefore selected for durability and to protect against wear.
Corrosion can be reduced or even be eliminated by use of corrosion and acid resistant steel in the manufacture of bolts, bushes and connecting elements. Single strand and twin stranded forged link chains are mainly supplied with pitches ranging from 102 to 260 mm. Bolts, scrapers and fittings are selected to suit the specific application. These chains are not strictly standardised and assemblies are therefore tailored to individual applications, which of course also applies to the chain wheels with or without replaceable rims. Occasionally split wheels are also employed to ease fitting to the shaft.
Kontakt os for mere information +45 8020 8020
Drago magnetic separators
Drago magnetic separators
A range of magnetic and non-ferrous metal separators from Drago Electrónica perfectly satisfy efficiency requirements for the accurate separation of primary and secondary raw materials.
Tried-and-tested machines are available for diverse applications ranging from sorting scrap material and waste to mining applications and our technical department provides solutions for everything from standard to custom
applications.
ELECTROMAGNET – TYPE DEP
Electromagnetic separators consists of a coil made of aluminum plate, which, fed with the electrical panel, is transformed into a magnet, trapping the ferrous metals.
Once the power supply is cut off, the metals are detached from the magnetic system.
OVERBAND WITH PERMANENT MAGNET – TYPE OPL
Overbands are equipment consisting of a permanent magnet (OPL) or an electromagnet (ODEP), depending on the required power, located on a conveyor belt. The main characteristic of the Overband, is that it is a magnetic separator with automatic cleaning, very useful when there is a large presence of ferrous metals. That is how we achieve that the separating equipment is always clean of iron impurities.
MAGNETIC DRUM, TYPE TER
These types of magnetic drums are mostly used in protecting machines, mills, grinders, etc.
Drago Electrónica magnetic drums are perfect for separating ferrous particles in a great variety of processes. The Drum is made up of two sections, a magnetic one and a non-magnetic one, so the product material containing ferrous objects falls directly on the magnetic section. The ferrous particles are captured by the magnetism and stay on the drum until they fall off when they leave the magnetic section.
MAGNETIC HEAD ROLLER TYPE TM
These types of magnetic head rollers substitute the rollers placed at the head of the conveyor belt. This system extracts ferrous particles from the product that is passing along the conveyor belt, takes them under the roller, where they fall off and are collected in a container.
MAGNETIC DRUMS WITH DIFFUSER CABINET
The diffuser cabinet converts the magnetic drum into an ideal product for falls by gravity from pipes or environments where dust is a problem.
The physiognomy of the structure means that 100% of the product has a direct impact on the magnet, achieving unbeatable results. The two different outputs of ferric material and product prevent any leakage or mixing and end up providing the magnet with a complete and automatic magnetic separation system.
Contact us for more information +45 8020 8020
Quick release® belt tensioner
Quick release® Belt tensioner
The Hyecon Quick-Release system has been developed for use in wet environments to increase effective cleaning by easily and quickly releasing the belt and providing easy access for cleaning conveyor components under the belt. In the same way, the conveyor belt can be quickly dismantled/replaced and tensioned seamlessly with perfect pre-tension every time.
The system is specially designed for cleaning with high-pressure cleaning and is supplied with an EHEDG certificate. The quick-release is therefore particularly interesting in food industries, where emphasis is placed on high food safety via strict hygiene requirements, efficient cleaning with a minimum consumption of water, chemicals and labor – or in all types of industries where it is important to reduce the time where the conveyor stands still in connection with cleaning or belt changes.
The Belt Tensioner is prepared for hygienic installation in the frame structure of the conveyor together with drum motors and idler rollers.
Properties
Stainless steel (1.4301/AISI 304)
Food grade elastomers
EHEDG certified (only drum and motor)
The construction ensures easy disassembly and replacement of gaskets
Adjustment of belt pre-tension: 0 – 50 mm (on each side)
Capotex cover for conveyor belts
CAPOTEX
Protection systems for belt conveyors

Why protect a conveyor belt?
There are plenty of reasons to emphasize the safety of employees and the protection of equipment and materials, as well as the reduction of environmental impact when transporting materials. At Capotex, we have all kinds of models that can be adapted to the customer's needs.
Worker safety
Complementary systems
Conveyor belt protection
Environmental protection
Transport efficiency