Conveyor
PE Light
PE Light conveyor system
The light PE-light carrier is manufactured according to the customer's specifications, wishes and requirements. It is an affordable, flexible and slimline solution
for transporting many different types of objects.
The conveyor is supplied as standard in a galvanized version, but can also be supplied in a stainless, aluminum or painted version.
Additional equipment: edge rails, front scraper, adjustable legs, frequency converter, etc.
Produced according to your requirements
Can transport very small objects
Can also transport objects with uneven surface
Can be ordered with different belt types
Low cost maintenance
Great endurance and robust design
Very reliable
Dropbelt
In collaboration with i.a. Danish Technological Institute, we have developed a concept for environmentally protected transport of material. This is an open conveyor belt that closes during transport into a drop-shaped 'bag' that encloses the object and transports it to the desired destination without contaminating either the product or the surroundings.

Hyecon is the ideal conveyor system for the food industry as it and can transport fish, entrails and other slippery items with great efficiency without the risk of spillage during transport. Contact us on 8020 8020 to hear more.
The DropBelt conveyor belt is unique in that it has dynamic transport direction, which means, among other things, that it can drive around corners and both rise and fall.
Test setup in our production hall in Viborg, where all components were stress tested over a longer period.
Significant advantages with DropBelt
Dynamic transport direction (can change direction)

Can turn 90° og 180°

No environmental impact

Optimal utilization of space
The application possibilities are diverse, as DropBelt® has endless possibilities that do not have to be limited to the food industry.
Material that packs in auger conveyor

No spillage during transport

Need to add/top up along the way

Need for hygienic/protected transport

Gentle transport of granulat
Polylink
Polylink transport system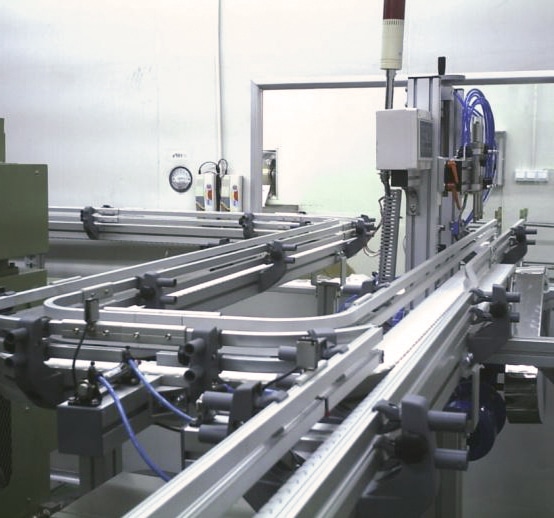 Series Width Max weight Item weight
(mm) (kg) (kg)
FL 65 160 8
FM 85 220 15
FH 105 320 20
The PolyLink plastic module programme consists of more than 400 quality components that cover a vast majority of transporting lightweight material.
With PolyLink, flexible and economical solutions are made in high quality and efficient design, which is not only durable, but can also be changed, expanded and reused. It makes it possible to quickly and cost-effectively rebuild or expand compact 3D production lines, so that production keeps pace with the company's other developments.
The program consists of 3 different conveyor series, which together create the framework for cost-effective horizontal conveyor designs with speeds up to 60 m/min.
The PolyLink transport solution is a cost-effective system that will satisfy most of the requirements for plastic chain conveyor belts.
In addition to a proven design and high quality, the components are flexible and can be reused over several systems.
It is lightning fast and cost-effective to reconfigure and expand the compact 3D systems and re-configure to increased production.
The modules in PolyLink are easily accessible, resulting in short downtimes and guaranteeing secure and contemporary solutions.
Call us at
+45 8020 8020

for more information
Mobile conveyor
MOBILE CONVEYOR
We offer design and construction of conveyors to nearly all industries.
We have many years of experience in developing new conveyor concepts within the food industry and have designed conveyor components that can handle everything from powder to fish – up to a 30º slope.
Call +45 8020 8020 for more information