Noise recuction funnels

In the processing industry where the transport of products is resulting in too much noise, noise-reducing funnels can be used to improve the working environment. The funnels are specially made to measure and cut from food-approved PU material and assembled into a finished funnel.
With its smooth surface, the PU funnel has significant hygiene advantages, as it prevents the formation of bacteria and is easy to clean. The funnel effectively reduces noise from impacts and can be easily be implemented in production lines for processing frozen foods.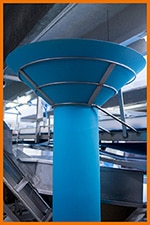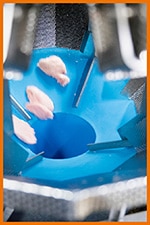 Real-life applications
We have, among other things, installed the funnel at HKSCAN, which has resulted in a better working environment and contributed to minimise product wastage.
"The lifespan of the soft product has surprised us and we intend to install it in more places in the production." Tue Albrektsen, HKSCAN
---
Reduces noise up til 20db
Improves cleaning efficiency
FDA approved Volta materiale: USDA, FDA og 3-A Diary
Easy to handle
Migration test
Does not contain plasticizers or other additives in the form of phthalates
Smooth surface results in a more stable transport of the product
No product wastage
Call us
+45 8020 8020

for more information