Scandrive rollers
Scandrive steel rollers
Scandrive steel rollers use a technology that allows the roller to withstand a much greater load over a longer period of time.
Ellegaard produces all types of rollers and have short delivery times with our own production facilities in Roskilde. Please contact our Sales Department for offers or further information.
SCANDRIVE STEEL ROLLERS
Wrap up to 3 mm thickness
Welded end caps results in a stronger construction
Labyrint seals means tighter bearings
Roller diameter from Ø38 mm to Ø133 mm
Optional disc rings
Beskpoke lengths on enquiry
We stock all common types of steel for casings, axles and bearings
SCANDRIVE IP 69K ROLLERS FOR THE FOOD INDUSTRY
Our continuous development work has resulted in that we now are able to deliver ScanDrive® steel rollers with IP69K sealing. Here we have compact and robust rollers, which are able to perform optimally in almost all situations and conditions.
With an IP69K sealing, you achieve the highest possible encapsulation of the motor, and an even greater opportunity to meet the high demands placed on hygiene and cleaning, especially in the food industry. ScanDrive® IP69K motors can withstand high pressure cleaning and rinsing, including hot water cleaning, and can run under extreme conditions without dust or liquids entering the motor.
Test method
The test standard for IP69K specifies a nozzle supplied with water with a temperature of 80°C, a pressure of 8 – 10 MPa (80-100 bar), and a water jet of 4-16 litres/min. The nozzle is placed 10-15 cm from the equipment that is to be tested. The nozzle is held in place for 30 seconds in each of the angles 0°, 30°, 60°, and 90°. The equipment must during the testing be placed on a table that rotates with five revolutions per minute.
This is what the standard means:
The letter and number combination defines the encapsulation degree for dust
and liquids:
IP = Ingress Protection
6 = Dust-proof
9K = Suited for high pressure cleaning and rinsing
---
Hyecon is a term for the highly efficient Ellegaard component developed for the Food Industry, focusing on hygiene and economy. The product portfolio consists of the following components:
ScanDrive Drum Motor IP69K certified
Scandrive Rollers
Undine Belt cleaning technology
Quick-Release Belt Tensioner
Dropbelt
Click here to read more about Hyecon
DIN-norm
IP 69K surpasses the German standard DIN 40050-9 for equipment that can withstand high pressure, high temperatures, and strong water jets.
Scandrive polymer rollers
SCANDRIVE POLYMER ROLLERS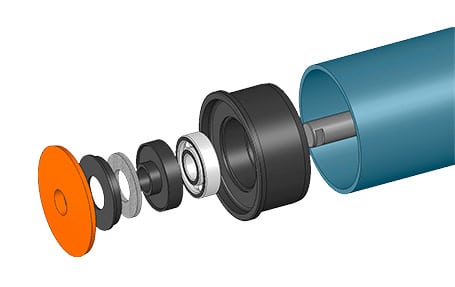 Ellegaard stock all types of rollers.
Please contact our Sales Department for offers or further information.
Wraps in food grade blue PVC

End caps in food grade POM

Sealed hygienic design

Built-in fixed axle shafts

Pillow blocks in food grade 'non-squeaking' glide material (UHMWPE)

Diameter: from Ø50 – Ø133 mm

Shafts and bearings are supplied in all types of steel

Beskpoke lengths on enquiry

Max load: up to 200 N

Meets the IP69K standard
---
Hyecon is a group of highly efficient Ellegaard components developed for the food industry with focus on hygiene and economy. The product portfolio consists of the following components:
ScanDrive Drum Motor IP 69K certified
Scandrive Rollers
Undine Belt cleaning technology
Quick-Release Belt Tensioner
Dropbelt